Chicago Environmental Justice Communities Map
COVID-19 has generated a large discussion around pollution. The Tribune did a story on PM 2.5 levels apparently going up since the stay at home order was announced. Curious City attempted to answer a question from a listener on this issue. Car traffic is down, but truck traffic is almost the same.
Now, with a botched Coal Plant demolition in Little Village and environmental justice organizations in McKinley Park calling for the closure of the MAT asphalt plant, there are repeated references to research about pollution levels in various communities on the Southwest Side that need to be clarified.
A good example of this is from South Side Weekly:
At the January 16 meeting, a color-coded map created by the Natural Resources Defense Council was displayed, showing graded pollution levels in the city caused by diesel trucks, dusty materials, noxious odors and other environmental hazards. The landscape was bright red in Southwest Side communities and in the often-overlooked Southeast Side, near the Calumet River.
The map that they refer to is this one and the description the author provides is incorrect.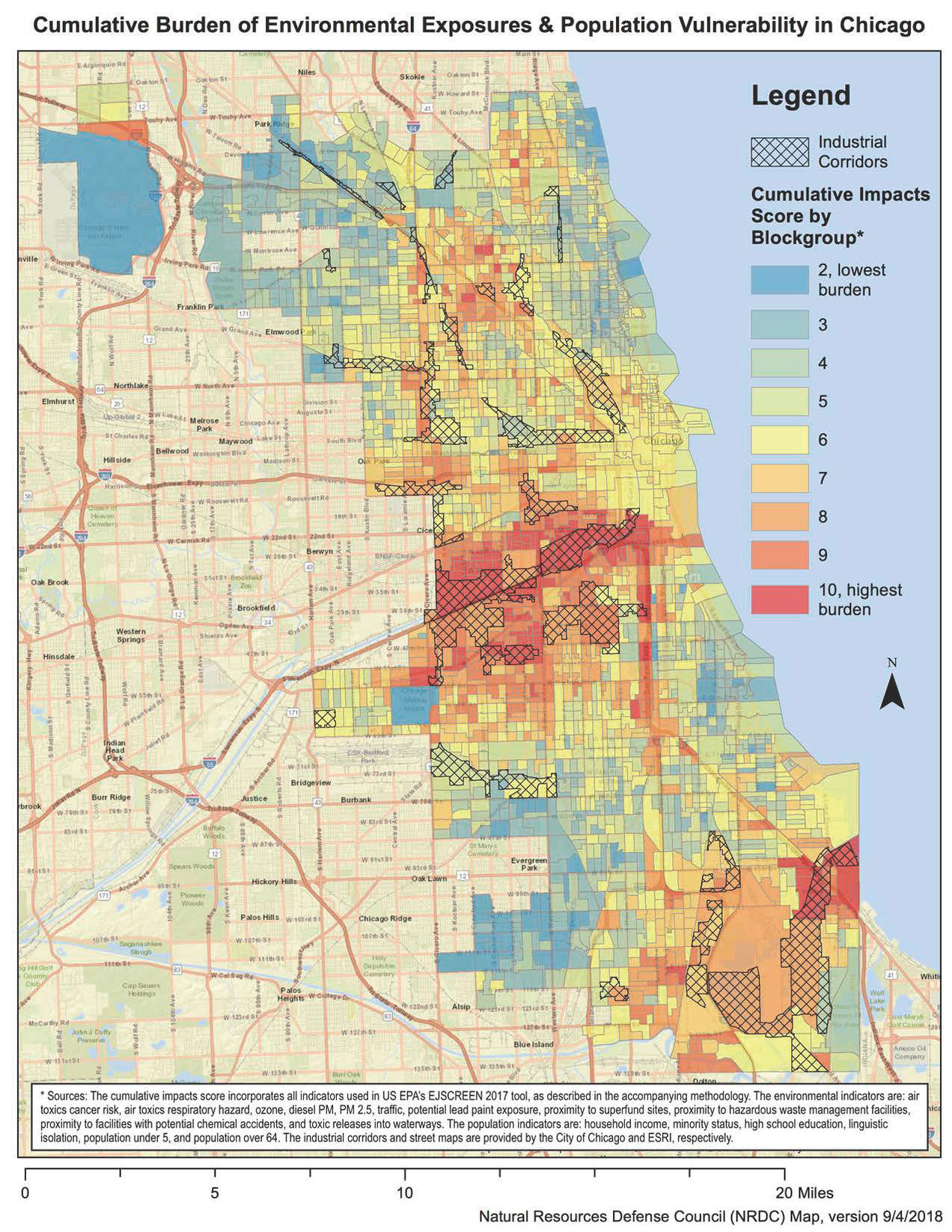 Every time I've seen this map it's been explained incorrectly. In my opinion, these incorrect descriptions stem from the political interests of some activists combined with a lack of subject matter expertise. I don't want to get side-tracked by Chicago politics or a discussion about the non-profit industrial complex in this post, so I've written a post that does that here.
With the COVID-19 pandemic ongoing, it's more important than ever to have a proper understanding of this data.
US EPA EJ Screen
From the US EPA's website:
In order to better meet the Agency's responsibilities related to the protection of public health and the environment, EPA has developed a new environmental justice (EJ) mapping and screening tool called EJSCREEN. It is based on nationally consistent data and an approach that combines environmental and demographic indicators in maps and reports.
Essentially, the US EPA EJ Screen puts out a collection of data grading each census tract on a variety of demographic and environmental measures. Those measures are combined and mapped to get a clear understanding of census tract with a disproportionately vulnerable population and/or a disproportionate amount of pollution. While the US EPA has this data available and mapped out, the interface leaves something to be desired.
Chicago
Below are a few different visualizations/aggregations of the US EPA EnviroScreen data for Chicago in 2019. First, let's look at just the environmental indicators.
Environmental Indicator Map
The following 11 environmental indicators are combined in a reasonable way to create an aggregated environmental indicator:
National Scale Air Toxics Assessment Air Toxics Cancer Risk
National Scale Air Toxics Assessment Respiratory Hazard Index
National Scale Air Toxics Assessment Diesel PM (DPM)
Particulate Matter (PM2.5)
Ozone
Lead Paint Indicator
Traffic Proximity and Volume
Proximity to Risk Management Plan Sites
Proximity to Treatment Storage and Disposal Facilities
Proximity to National Priorities List Sites
Proximity to Major Direct Water Dischargers
A higher score/more red tract means more pollution.