We're Finally Talking About Sims
tldr; Sims Metal has been paying Washington DC consultants $80k/yr for most of the last decade. Those consultants have filed reports from 2017 through 2021 stating that they have been lobbying IL State Representative Marcus Evans, our new Assistant Majority Leader in the Illinois House of Representatives

Representative Evans southside district includes the site of what would have been the only competition to Sims metal shredder in the city of Chicago, the RMG/General Iron metal shredder at South Burley Avenue and 116th Street until the city announced they were denying General Iron's permit.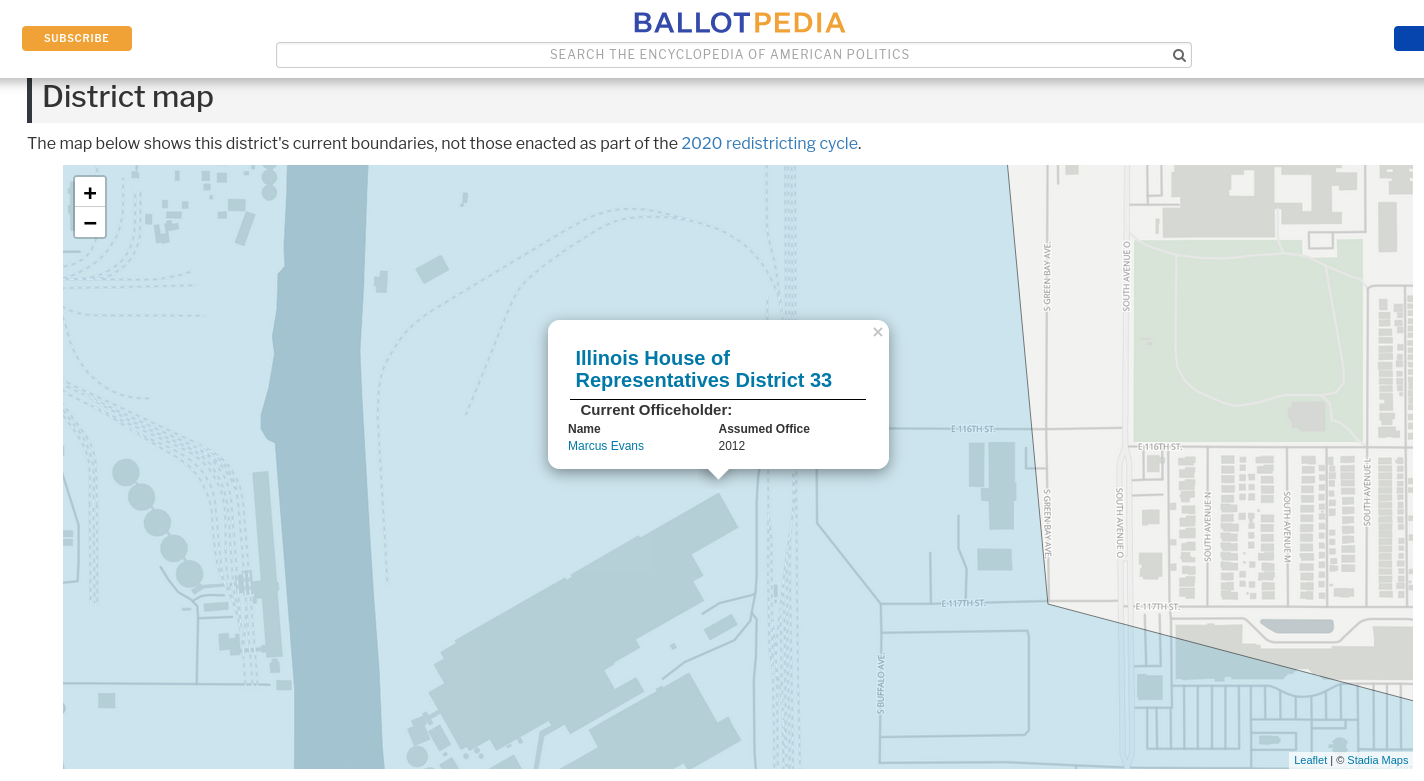 Furthermore, there are recent campaign contributions to Sims's local alderman, Byron Sigcho, from Sims's partners.

Considering Alderman Sigcho's participation in a hunger strike against Sims's sole competitor (General Iron/RMG is far outside of the ward), his relative inaction against the Sims facility in his ward, his prior history of collaborating with and advocating for Sims, and the recent participation of a variety of Democratic politicians in asking for a mere study and possible reduction in Sims's pollution within Pilsen, our community should be alarmed. It appears as if the Illinois Democratic Party's goal is to give Sims a monopoly on metal shredding in the city of Chicago, as they have for the last 16 months. These actions have forced (and will continue to force) the Pilsen neighborhood, and Juarez high school in particular, to bear the full burden of the negative externality that is metal shredding in the city of Chicago.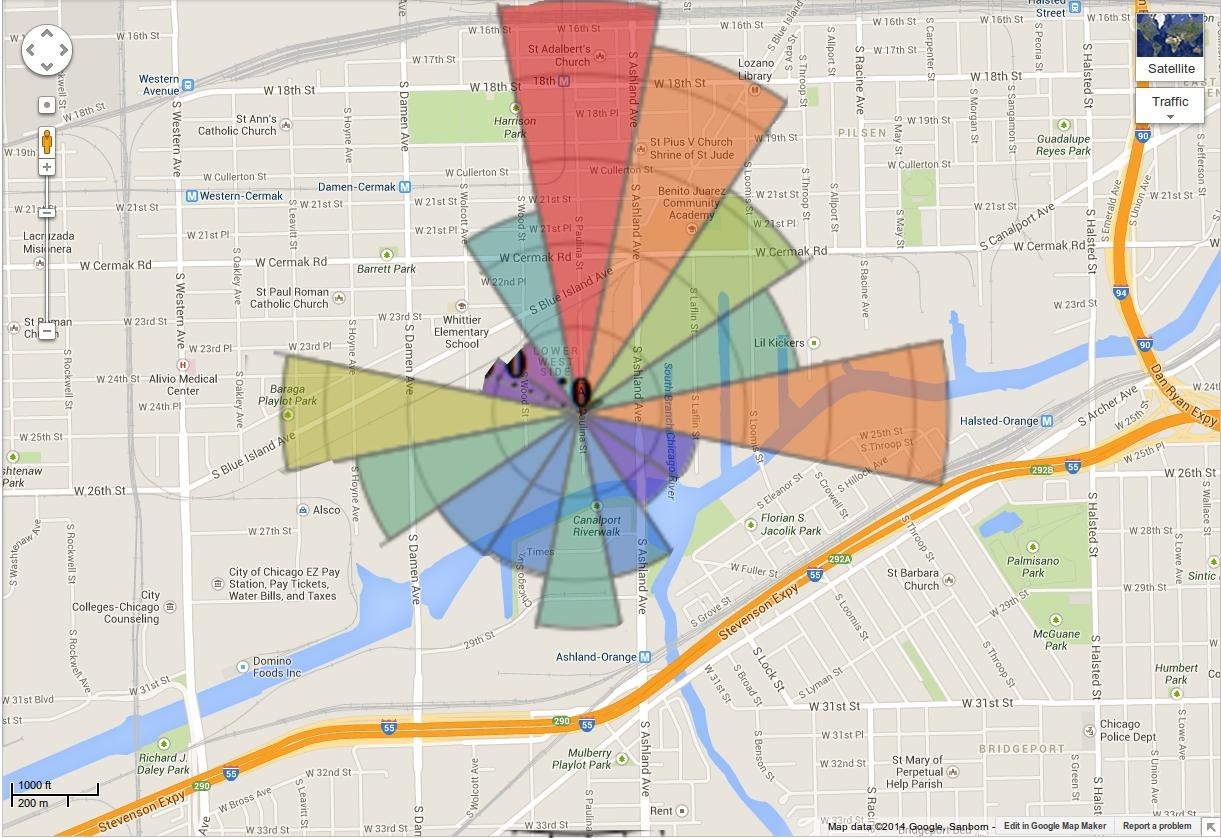 A windrose placed at the Sims's site demonstrating the direction in which the wind in Chicago typically blows.
WBEZ's Reset
7 years ago I wrote a blog post titled, No one wants to talk about Pilsen's existing metal shredder. At the time, there was a "a fight over the idea of bringing a metal shredder to Pilsen… Curiously, neither of the most vocal groups [had] taken a firm stance on the fact that there is an existing metal shredder in the neighborhood." Finally, after 8 years of raising awareness through word of mouth about the potential dangers of having a metal shredder less than 1000 feet from Pilsen's high school on behalf of the Pilsen Environmental Rights and Reform Organization (PERRO), I'm pleased to discuss the issue on WBEZ's Reset.
The last time I was on Reset, I was talking about lead in Chicago's water. Unfortunately, they initially failed to un-mute my mic which was followed by the other guest talking over me. For today's episode, the other guest is a member of a non-profit organization (Southwest Environmental Alliance) tied to Pilsen's alderman whose city council nickname is Shitshow. Hopefully you'll understand why I felt compelled to write this up in advance.
General Iron
Chicago previously had 2 metal shredders: one in Lincoln Park (General Iron) and one in Pilsen. General Iron was located in Lincoln Park and was successfully pressured to close down by politicians and residents at the end of 2020. The plan was for them to relocate to the southeast side of Chicago to another Mexican American neighborhood. That rightfully drew protests as it was a classic instance of environmental racism. The city recently denied General Iron's permit to operate in Rep. Evans's district and they appear to be exploring their options.
Pure Metals
That said, it's important to not take everything at face value in Chicago politics. In 2014 there were two groups advocating both for and against bringing a third shredder to Chicago; i.e. bringing a second shredder to Pilsen.
La Familia Unida Ministries advocated fiercely for a second metal shredder in Pilsen:
Pastor Emma Lozano of the Lincoln United Methodist Church in Pilsen led those in favor of the proposed metal shredder. The church is a sponsor of the Youth Health Service Corps and Familia Latina Unida Medical Reserve Corps. "We want to live in a community which is mixed residential and manufacturing. That's a choice that we have made," said Lozano.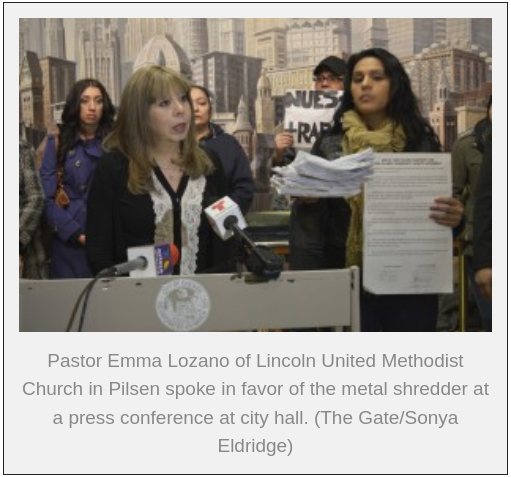 Their fervor for a second shredder in Pilsen was so great that they libeled me on a local message board. This was followed by one of their members assaulting one of PERRO's members in protest against the new shredder.
One of the groups advocating against the new shredder was Pilsen Alliance. I was a volunteer for Pilsen Alliance from 2011 until 2014. In 2014, after doing research on the dangers of metal shredders and discovering that Pilsen already had the Sims shredder, the assistant to the executive director of Pilsen Alliance instructed me:
Don't say anything bad about Sims… Their lawyer will stop giving us money.
At that point, I joined PERRO while making a failed attempt to push Pilsen Alliance to take on Sims Metal. Shortly thereafter, Byron Sigcho would run as a carpetbagger for alderman with the executive director of Pilsen Alliance as his campaign manager. During Sigcho's 2014-15 aldermanic campaign, Pilsen Alliance published this praise of Sims:
SIMS, the current shredder, operates west of Ashland, at 2500 S. Wood. SIMS is an international, publicly traded corporation with a clean record by the Environmental Protection Agency. Sims is also a unionized company, offering living wages and benefits operating under high safety standards.
Following his failed campaign, he was named the executive director of Pilsen Alliance.
Sims Metal Management
While Pilsen Alliance claims that Sims had a "clean record", this was not true. For example, here they are violating the Clean Water Act in San Francisco in 2012:
EPA slaps enforcement order on recycling plant
Here they are in 2011 paying a $2.9m fine in Los Angeles. Here they are being fined again in San Francisco just 2 weeks after Pilsen Alliance posted that statement. Most dramatically, back in 1986, in their native Australia:
A furnace at an aluminun smelting plant exploded today and sprayed tons of molten metal into the air, killing one worker and injuring 10 others, a factory official said. Five of the men showered with the liquified aluminum suffered critical burns…
At issue today, and in Pilsen specifically, there were complaints filed against Sims in 2016 that led to inspections by the EPA. That led to a consent agreement and final order (CAFO) being filed by the EPA on Thursday, December 20, 2018. For those familiar with the TV show West Wing, finalizing this agreement just before Christmas break felt like the ultimate "take out the trash day":
save a few embarrassing stories for release on Friday to blunt the effect on the media over the weekend
Intended or not, the EPA's timing worked out for Sims. Despite this $225k fine by the EPA happening in the middle of an open aldermanic election (I was the only candidate running with a history of advocating against the company), despite the mountain of concurrent press coverage of General Iron's move, despite me alerting reporters at Block Club Chicago and the Chicago Tribune, no one was interested in publishing the story about Sims's fine. The only coverage of the EPA action came from an online recycling industry publication, Recycling Today.
The lack of press coverage worked out for Sims, but it also worked out for Byron Sigcho. As I pointed out above, he is listed in court documents teaming up with Sims. His non-profit published high praise of the company. A story like that would not have been good for his campaign. Are you familiar with the concept of manufacturing consent? Because that's how it read to my supporters.
That EPA action announced in December 2018 has since snow-balled. From Prof. Don Wink via PERRO:
SIMS was required to obtain a Federally Enforceable State Operating Permit (FESOP) from the State of Illinois. An application for this Permit was filed in January 2019 and amended in January 2020. The draft permit has not been issued.
One reason for the delay in issuing a draft permit was the requirement that SIMS obtain accurate information on emissions from the shredder. The original FESOP application included emissions data from a different SIMS facility, in Rhode Island. As part of the Administrative Consent Order, SIMS agreed to have testing done by an independent group. This was done by Mostardi Platt in September 2019. That data, which showed emissions fully 10 times that suggested based on the Rhode Island data, was then put into a revised FESOP application in 2020. According to the ILEPA, the next step would be to issue a draft permit for public comment and, since the area around SIMS is considered an Environmental Justice community by the State of Illinois, public hearings about the permit. There has been no action taken on this application as of January, 2022.
One reason why the draft permit has not been issued came to light in Fall, 2021. At that time, it was revealed that testing was done in May, 2021 that showed major problems with the ability to capture, let alone measure, emissions…. Although the Spring, 2021 testing did not measure the emissions of any pollutants, a direct conclusion is that any measurements made of emissions from the shredder would be inaccurate, likely by a factor of at least 2.
As a result of the discovery that emissions could not be captured properly, it was determined that SIMS was likely emitting more than 25 tons per year of volatile organic material (VOM), in violation of the Air Pollution Regulations of the State. This was the basis of a suit filed by the Illinois Attorney General preliminary injunction order against SIMS. The order, which was agreed to by SIMS, included a requirement that SIMS immediately develop a plan to properly capture emissions and, at the same time, to implement pollution controls on the shredder.
As this is being worked out (the application for the new controls was just filed with the state on December 20), the facility continues to operate with existing technology and controls.
Additionally, the city permit process created by Dr. Arwady at CDPH that was applied to, and used to deny a permit for, General Iron is also required for Sims. Sims filed that permit with the city using the garbage data described by Prof Wink above. In part, my comment to the city (with a lot of help from Prof. Wink) reads:
The permit application has a key component–the Air Dispersion Model–that is fatally flawed. The modeling data, since it is based on an emissions test in September 2019 that is known to be invalid, cannot be used at all. Moreover, for other claims made, the application is missing necessary explanatory or predictive data that would allow those claims to be properly interpreted by the community…. That Sims Metal Management (SMM) would file a permit application this flawed should serve as evidence and as a warning to the City of Chicago that this company's leadership either lacks the necessary technical sophistication, or the forthrightness, to safely run a piece of critical infrastructure less than a thousand feet from Pilsen's neighborhood high school.
The lastest Sims protest in Pilsen
On January 13th, 2022 I appeared in a Chicago Sun-Times article about the Sims metal shredder advocating on behalf of PERRO that Sims should be cleaned up or shut down. So you can imagine how far back my eyes rolled when I was messaged this by a neighbor the very next day: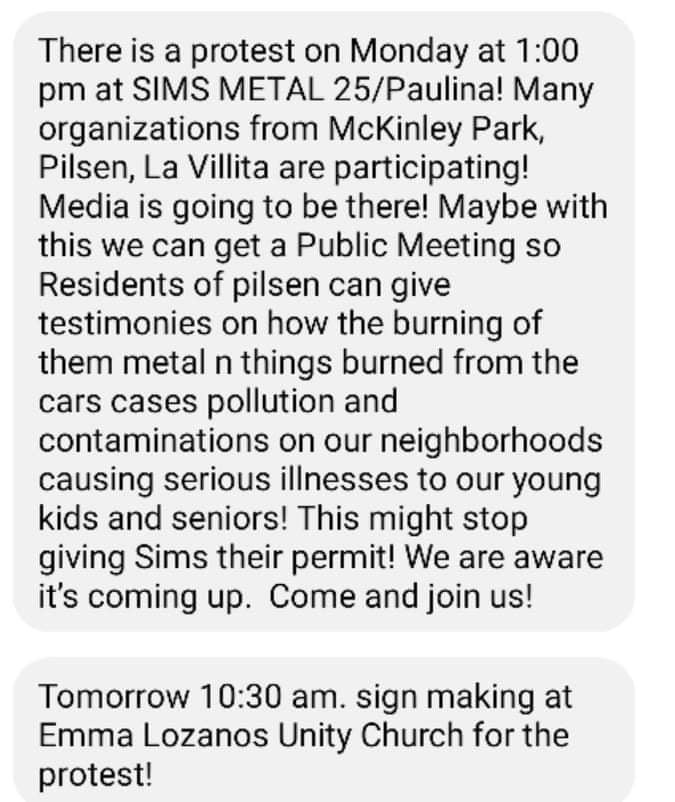 Yes, the same Emma Lozano who in 2014 was advocating for Pilsen to have, not just one but two shredders, was now suddenly outraged by the existence of a single shredder in the neighborhood. This behavior is the most brazen example of what is known as the non-profit industrial complex:
You're probably more familiar with the concept of the military industrial complex. Eisenhower coined the phrase in his last speech from the White House… [where he describes] the links between the military and lawmakers and how that system has been hacked by the weapons industry. Similarly, the non-profit industrial complex describes the links between non-profit sector, lawmakers, and industry… The mechanisms that influence congress to build useless tanks also influence non-profits to collect signatures in favor of bringing/keeping cancer-causing industries in our neighborhood.
If you believe that Emma Lozano and their church read the Sun-Times article and suddenly changed their mind on metal shredders, then bless your heart.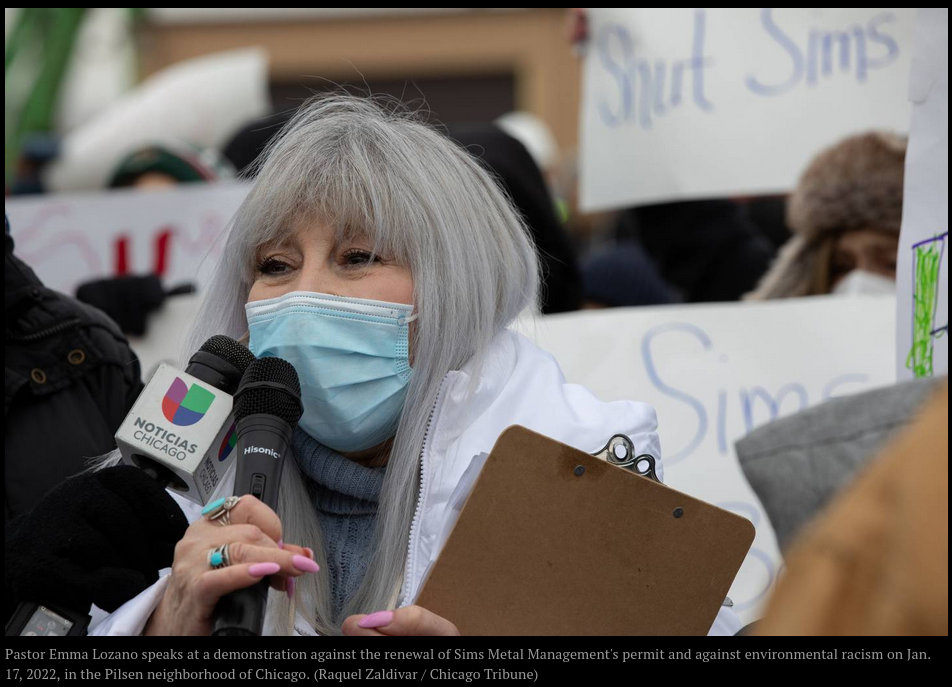 My experience suggests that they sense opportunity to collect some non-profit money from big environmental groups who need a local partner to qualify for their grants. Or to work for Sims to help direct the narrative… And they've got journalists too polite, busy, corrupt, and/or naive to call them out on it.
The least our journalists could do is ask:
Hey Emma in 2014 you said one thing, now you're saying the complete opposite. What gives?
It's the same situation with Ald. Sigcho:
Hey Byron in 2014 your group said Sims was great, but now you're saying the complete opposite. Explain.
To go even further, an enterprising journalist could ask:
Byron, you advocated for Sims in 2014 against their competitor. Then you went on a hunger strike last year against a different competitor. All this while doing close to nothing about the shredder in your own ward, until your old political foe showed up in the paper. Now you're suddenly taking $3500 from recycling corporations after campaigning on not taking any money from any corporations. Please explain.
Now, this is a politician, so don't expect an honest answer. But this is a politician who lied for years about his signature accomplishment: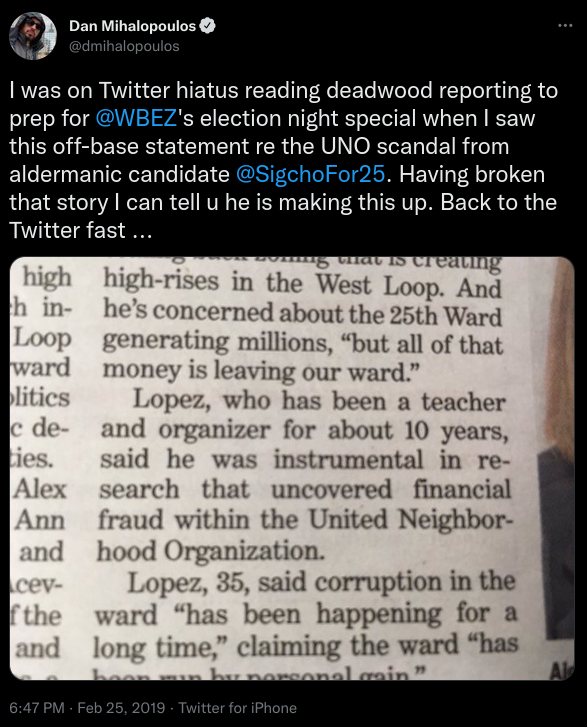 A politician who lied about how long he'd lived in Pilsen.
A politician who claimed to have a PhD, but doesn't have a thesis in the database: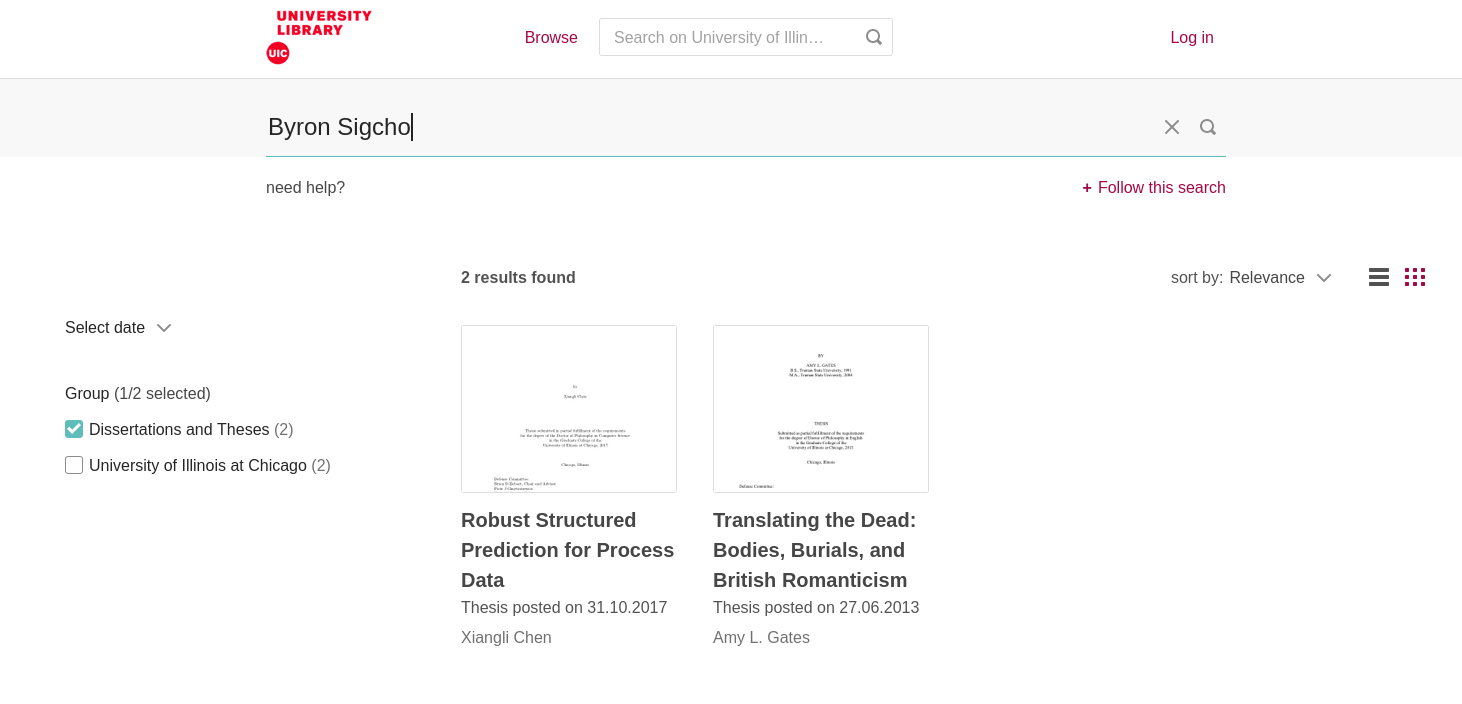 I could go on about Dr. Shitshow's lies… The point is, whenever a journalist reports Sigcho's statements uncritically, it used to just be embarrassing. Now it's dangerous.
If you're curious as to how I know that the Family Recycling Center Inc mentioned above is a Sims business partner, just go to their Google Maps location and you'll see a big blue Sims trailer parked outside with Sims's name and logo: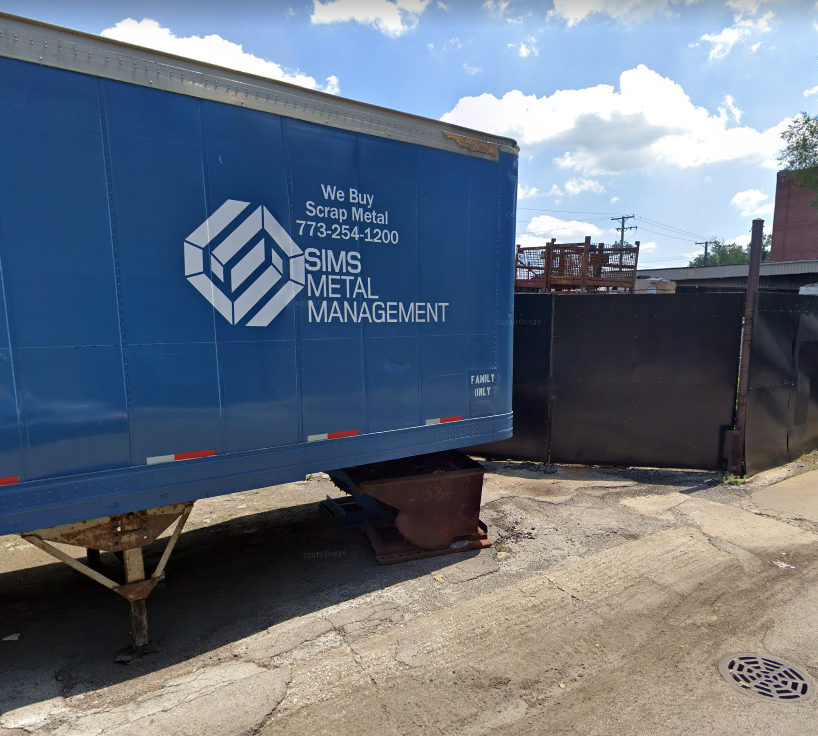 Dark money
In Illinois, you typically go to IllinoisSunshine.org to look for campaign contributions. That's where we find Sigcho's latest take from Sims's partner Family Recycling Center. But when you're dealing with an international corporation, it's worth checking OpenSecrets.org where an easily searchable database of federal documents is provided. There it's made plain that Winning Strategies Washington has been working with Sims for over a decade. We also see in 2017 that they start lobbying our state rep Marcus Evans in Q3 of 2017. Curiously, that's a year before General and RMG announced their planned relocation to Rep. Evans' district.
So how does that money get from Sims to the minor politicians and shady non-profits to influence legislation and public opinion? Let's get the dark money basics from OpenSecrets.org:
Politically active nonprofits such as 501(c)(4)s are generally under no legal obligation to disclose their donors even if they spend to influence elections. When they choose not to reveal their sources of funding, they are considered dark money groups.
Opaque nonprofits and shell companies may give unlimited amounts of money to super PACs. While super PACs are legally required to disclose their donors, some of these groups are effectively dark money outlets when the bulk of their funding cannot be traced back to the original donor.
Also from OpenSecrets:
While some outside groups – like super PACs – are required to disclose their donors, others – such as 501(c)(4)s – are not. These nondisclosing organizations can engage in a number of activities, including buying ads that advocate for or against a candidate, running phone banks and making contributions to super PACs.
Notice that the Pilsen Alliance employee told me that "their lawyer will stop giving us money". If you followed the news about President Trump's lawyer Michael Cohen, you'll be familiar with this arrangement.
Similarly, Sims is an international company with an almost $3 billion market cap. While we now know they have hired a lobbyist to engage with our Assistant House Majority Leader, they've apparently failed to file state of Illinois disclosures: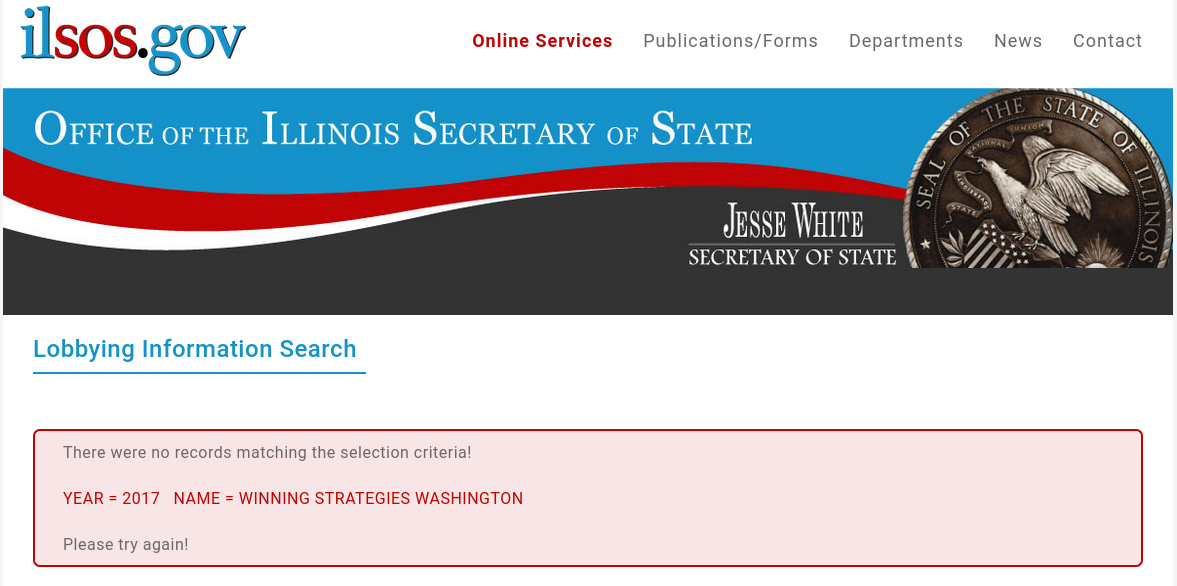 Do any of these politicians have a history of shady political financing? Yes, of course. The Sun-Times wrote about our supposed progressives in Illinois breaking campaign finance laws:
The timing and the amounts of contributions to union staffers running for office raises questions about whether they violate a state cap on labor union campaign giving.
And who do we see there but Alderman Sigcho!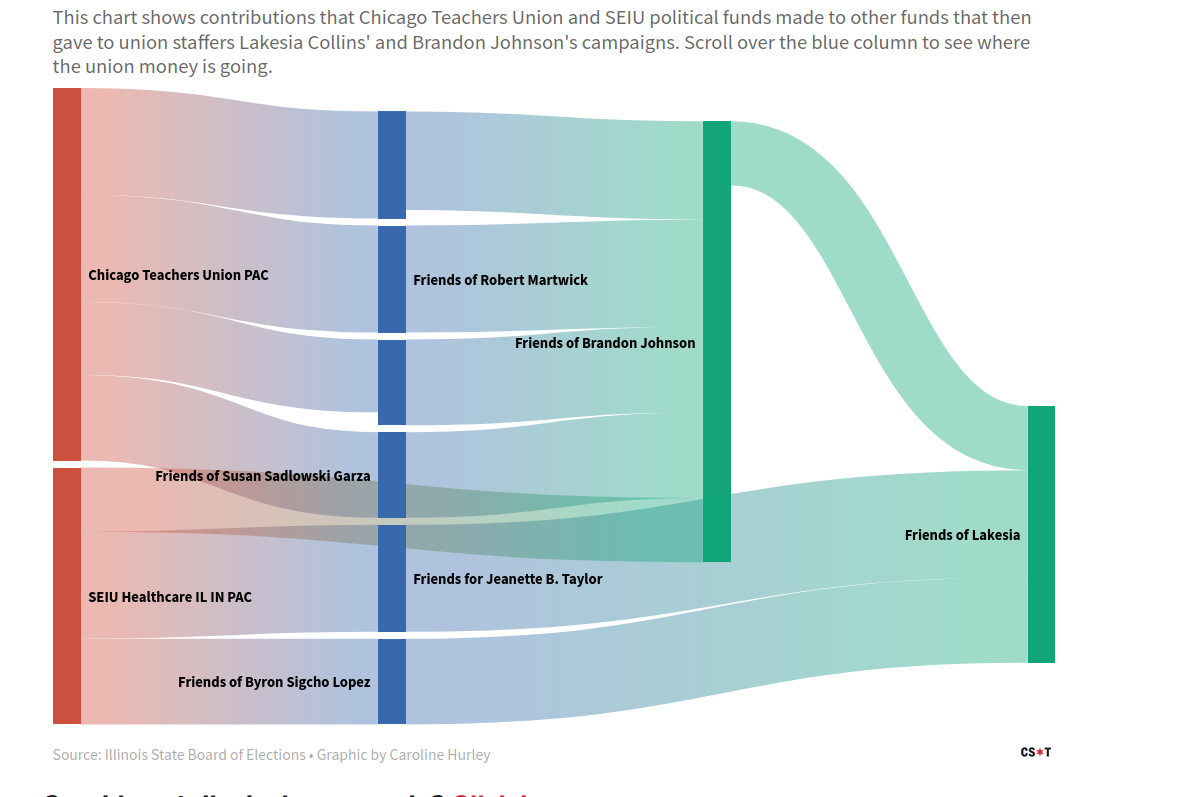 While Rep. Marcus appears to be a prolific fundraiser, a quick scroll through Illinois Sunshine shows similar activity to what we see above. On December 8th, 2021 Rep Marcus makes a $1000 donation to Friends of Lakesia. Then on December 31st, 2021 Sigcho reports the same $1000 donation from Friends of Lakesia (which Friends of Lakesia appears to fail to disclose). This is the same behavior noted in the above Sun-Times report.
While a few thousand dollars might not like seem a lot, politicians are cheap. Remember that Madigan cronies only made $1.3 million on their do-nothing jobs, while ComEd made $2.3 billion on the deal. That's almost a 2000 to 1 return on investment, even after they pay the fine!
The new environmental impact study
So what to make of the environmental impact study touted by the Mayor's administration?
While I appreciate that the mayor and CDPH created the Large Recycling Facility permit rules, why did it take so long for them to apply those rules to an existing facility that's been under investigation for 6 years!?
Their inaction, along with the alderman's, has ensured that Pilsen alone bears the burden the city's shredded metal for 3 years; from General Iron's closure at the end of 2020 until the end of 2023:
Megan Cunningham, managing deputy director for the city's Health Department, said in an interview that the city would like to complete the cumulative assessment by the end of 2023.
How convenient. They'll wrap up the study after the next municipal election.
When I see Sigcho's campaign contributions, when I see the same lobbying tactics Sims used in 2014 being applied to the uber-connected/uber-financed Illinois House Assistant Majority Leader state Rep. Marcus C. Evans, Jr… someone who donated the maximum of $57,800 to support Mike Madigan's legal costs and was subsequently rewarded with a leadership position… the type of leadership that could corral the group of politicians we saw at St. Paul's church last week, I can't say that I or much of PERRO's membership has a lot of faith in the process.